FPL Gameweek 1 Preview: Written by @FantasyGaffer
Delighted to welcome John Wallin aka @FantasyGaffer as he pick up the reigns for the 191st gameweek preview on FantasyYIRMA.com.
I've now known John since 2011 and it's a pleasure to have him writing on the site.
Don't forget to sign up to our mini-league. £100 Prize for the overall winner and spot prizes throughout the season. You can join for free directly below. R.
Defender: Ryan Bertrand , Southampton
Entering Week 1 there are four defenders who are 20% owned: David Luiz, Charlie Daniels, Angel Rangel, Kyle Walker. You'll notice none of them are the pick this week. The most egregiously over-owned isn't even the £4.0-rated Rangel who may not start for Swans, it's David Luiz who was the fourth-best defender on his own team last season. Staying away from current Blues, but investing in former Blues, is the early plan. Bertrand and the Saints face the second-worst defense from last season in GW1. Swansea conceded 70 times in 2016/17, including 36 away from home.
Midfielder: Kevin De Bruyne, Manchester City
KDB and the Citizens get first crack at new boys Brighton. Pep's side look like world beaters already, and that's before the  impending arrival of Alexis Sanchez. De Bruyne is owned in nearly 1/4 off all fantasy squads, he's a no-doubt first round pick in FPL Draft, and led the FPL in assists last season with 21. With plenty of rotation possible with both Silva's, Sterling, Sane, Sergio and  jeSuS – it's De Bruyne who should be nailed on to play 80′ on Saturday. That's just good advice and not very funny. What's orange and sounds like a parrot? A carrot. Moving on. (Ed. I can only apologise. It doesn't feel enough. Seriously. I'm sorry you had to read that.)
Forward: Roberto Firmino, Liverpool
If you're new here, get use to seeing this man's name in this column. Firmino is dirt cheap at £8.5, he's less owned than Salah or Coutinho, he's got madd skilz and a proper banger for an IG. He leaves defenders for dead. Ice cold. Oh, and he's on penalties now. 11 goals/11assists last season. He's headed for a 15-goal campaign and will be in the conversation for Player of the Year.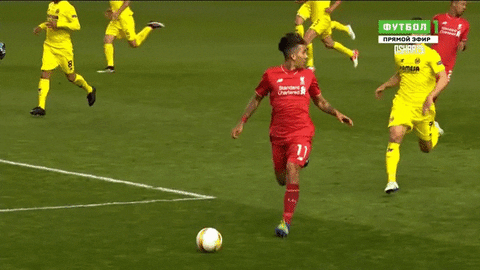 The remarkable thing about Firmino this year is how the move from Midfielder to Forward has people expecting less of him. He's Sam Rockwell in Galaxy Quest. People forget he's there til he's on screen – then he steals the show.
Captain: Alexandre Lacazette, Arsenal
A year ago Lacazette scored 28 goals for some team in France. That's a lot of goals. More than any player scored in the EPL last season. Well, almost any player. If you prefer to chalk your hands each week you go right ahead and pick the gangly lad in London over Arsene's newest import. If you're comfortable swimming up stream, picking Lacazette (17% owned) to score early and often on Friday night means you'll be singing all weekend, instead of a tense mess on Sunday watching Rafa's regimented side park the bus squarely on Harry's spindly shoulders.
Outsider: Jason Puncheon, Crystal Palace
Six Crystal Palace midfielders have a higher ownership % than new Eagles captain Puncheon. Six CRYSTAL PALACE midfielders have HIGHER OWNERSHIP % than Puncheon. That is madness. He's the number one chance creator in a side with Christian Benteke (105 shots last term) and will benefit from Andros Townsend having a resurgence (read: playing like an actual Premier League footballer). Puncheon didn't score a goal last season and had just six fantasy assists. Those numbers will both trend up this season. Palace are a quick out of the gates, fade down the stretch, team that you should ride early and often.(Ed: Sounds like my… actually let's just move on) And put down before the mixed metaphors turn to glue.
Draft: Jay Rodriguez, West Brom
Rodriguez might be a good shout for the Outsider in GW1 as well, having secured a move to Tony Pulis' Baggies where he has no competition for a starting rule. JRod is now 28 and never fulfilled the potential he showed at Burnley. His Saints days now behind him, he's a clean bill of health away from a 12-goal, five-assist season that makes a him a valuable rotation as a third striker and a great FWD3 option in the draft games. Widely owned in Togga already, if he's available in your league add him now – reap rewards later – send YIRMA cash in unmarked grocery sacks. (Ed. The American means plastic bags)
BONUS CONTENT
Last week was a bit of a milestone for FantasyYIRMA as we ran a 3 part fantasy series on FourFourTwo.
Absolute  pleasure to provide content for the digital publication side.
Link's below are for our #FPL bargain picks by position
We put together a Fantasy Bargain Special – you can check out our selections here.

John (aka FantasyGaffer) has been playing fantasy sports for more than a decade. An avid supporter of Liverpool since the days of the Spice Boys, he has earnestly worn a white suit on multiple occasions. You'll find his work on fantasy draft site PlayTogga. Prior to joining Togga, he wrote for EPLIndex, MLB.com/fantasy, BackPageFootball and his own site, FantasyGaffer.